NEW ENERGY WITH THE EPTA REFRIGERATED CABINETS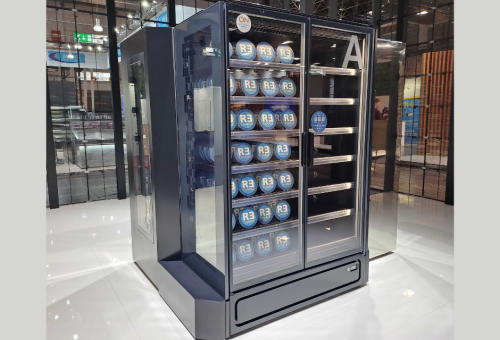 Thanks to its know-how, Epta takes new energy to stores with the launch of an upgraded selection of refrigerated cabinets branded Costan/Bonnet Névé, which are even more efficient according to the Energy Labelling.
"Retail Energy Management (REM) strategies are the order of the day on the agenda of Retail companies which, according to a study conducted by the EHI Retail Institute, have achieved increased energy saving in 2022. The leading best practices include the use of innovative refrigeration technologies." Explains William Pagani, the Chief Marketing Officer of Epta, who continues, "To do this, Epta is able to maximise the performance of its solutions, thanks to a detailed study of key elements such as fluid dynamics, evaporators, or the use of digital tools."
A concentrate of energy
The Costan/Bonnet Névé cabinets become out and out concentrates of energy. Five solutions stand out:
Tango Ultra/Multifresh Perform, the vertical positive incorporated unit able to reach class A, for 40% more efficiency compared to the previous versions. Another advantage is increased load capacity and minimum floor space with +10% interior volume and +50 mm shelf depth.
Valzer Ultra / MultiFreeze Perform and GranBering Integral Ultra/SkyLight Integral Perform, negative temperature cabinets, in class B, respectively provide 40% and 35% energy saving. To guarantee improved food visibility, the furnishings are characterised by full glass doors, terminal ends, and LED lighting.
GranVista Ultra/SkyView Perform, for perishable and highly perishable items, in class B from today, providing +26% performance. The vertical features optimal insulation and calibrates the operating parameters depending on external conditions.
The double-well GranBaltico/SkyExpo or single-well GrandDrake/SkySet island, are the new entries for sub-zero products, in class D. The attractive and lightweight aesthetics make the two horizontals almost invisible to the eye.
To finish, know-how is reflected in the choice of refrigerant. These cabinets, like the entire range of the different Epta brands, are set up to operate with natural fluids: CO2, for the remote models and propane R290 for the incorporated unit solutions, to encourage a sustainable approach of the stores.