Epta at Thaifex 2022: the evolution of commercial refrigerators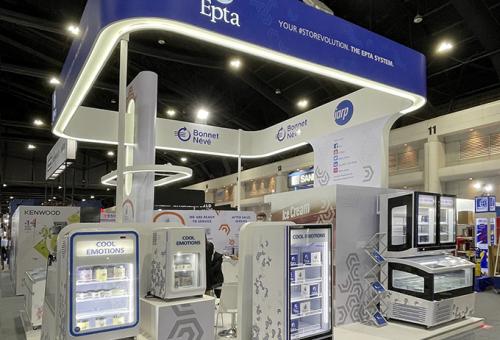 Epta Asia Pacific was a "guest" at the international THAIFEX-ANUGA ASIA fair of Bangkok Thailand, the biggest appointment of the continent dedicated to Food & Beverage, Ho.Re.Ca and food tech.
With more than 1,200 exhibitors and 40,000 visitors expected, the event held from 24 to 28 May was a showcase of excellence to launch the novelties of the Bonnet Névé and Iarp (Hall 1 – Stand RR13) brands on the APAC market.
The evolution of Hospitality requires aesthetics and functionality
The Asian Hospitality sector is constantly evolving. An ever-increasing request to merge design and functionality has been recorded. The goal is to realise attractive environments that optimise the management of space, to increase both display surface and store capacity.
From the refrigerated display plug-in cabinet to compact counters: IARP Cool Emotions
To respond to these needs, Iarp has devised the IARP Cool Emotions family. The range, born in Europe and now manufactured directly in Thailand, is among the key stars of the stand.
They are urban chic style plug-in cabinets made unique by blue LED lights on the external profiles, designed to attract the attention of consumers and maximise impulse buying. The protagonists at THAIFEX include:
- vertical refrigerated display cases Glee, available with positive temperature for beverages, snacks and ready-to-eat dishes, and negative temperature, for frozen products and packaged ice cream.
- the compact counters Excite and Super Excite for ice cream, which can be positioned above the bar counter and behind the counter.
- the Delight 18 refrigerated display case, for loose ice cream, presented in the 18-flavour version.
- the combination of Passion, horizontal ice cream refrigerated display, with Amaze, the double temperature top for beverages or ice cream. This proposal was born specifically for the Asian market, to ensure maximum exposure ratio and minimum floor space.
Curl and Curl Hot: the semi-vertical refrigerated display cases of Bonnet Névé
Epta Asia Pacific is also a reference partner for Asian Retailers: THAIFEX was an opportunity to exhibit the new refrigerated display cases designed for Large-Scale Retail Trade.
The event also saw the preview of the semi-vertical refrigerated display cases Curl and Curl Hot branded Bonnet Névé. Solutions dedicated to pre-packaged products, beverages and hot deli products, for all sales surfaces.   
Finally, on show was also the prototype of Turnaround, a plug-in chest for frozen foods with Push-Pull opening system designed for small shops.