Delight refrigerator display of Iarp's Cool Emotions range: design in the ice cream shop, a market that knows no limits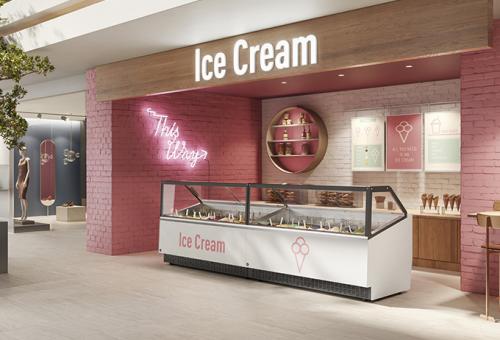 Fresh, inviting, creamy, fruity, refreshing. In one word, ice cream. A temptation that has always interested the palate of children of any generation.
Ice cream is a sector of the market that knows no limits of age or food regime. There is just one discriminating factor: the choice of flavours. What makes the difference is the craftsmanship rather than the semi or total industrialisation of the product.
The universe of childhood playfully associates ice cream with Toyland. However, for adult consumers, the tasting experience is increasingly more related to the impact in terms of the appeal of the stores.
The sector has evolved progressively in recent years, starting from the single brand stores to the flagship stores to arrive at the pop-up tasting bars which merge up-selling and cross-selling.
Continuing on this line, to attract a clientele sensitive to design, as well as to flavour, new distribution concepts have emerged. The key element becomes the return to tradition made of quality and genuine ingredients.
IARP refrigerator displays are versatile and customisable for the perfect preservation of ice cream
Epta, through its Iarp brand, responds to a double need: versatility and high technical performance of any display setting.
The LED lights on the external profiles and the digital print on the sheet metal for the customisation of refrigerator displays make the products even more attractive.
The design of the furnishings of the Cool Emotions range impresses a unique purchasing experience on consumers in favour of greater loyalty to the store. 
Delight is the horizontal ice cream display case for loose ice cream from 6 to 20 tubs:
Delight, the horizontal display cases for loose ice cream, are available in different formats: from 6 to a maximum of 20 tubs. They also ensure optimal preservation of the product.
They are eye-catching for customers, who can appreciate the assortment and consistency proposing an "old-fashioned" approach. The product in full view, a setup which recalls the ice cream parlours of the past.
These display cases are sustainable for the operators of the sector for two reasons:
use of natural refrigerant propane gas R290
The positioning in energy efficiency class C – within the scope of the Energy Label regulation.