Click & collect #EPTABricks by Epta for a sustainable approach to shopping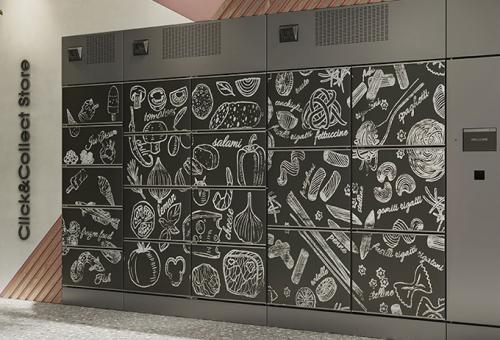 Click & collect, set up in 2011, is an efficient purchasing method which saves time, by allowing the customer to choose and collect the products more quickly. It is a new way of shopping which allows you to purchase by clicking and collecting from a practical refrigerated locker.
Following a first adjustment phase, it has experienced a considerable development in the English-speaking world since 2018. It has rapidly become a tool of Large-Scale Retail Trade to differentiate service, and has been continuously evolving under four aspects:
Coverage: it allows a significant increase in stores / collection points
Speed: it makes it possible to collect the order on the same day
Format diversity: thanks to the development of new logistic supports, new collection methods are set up
Experience: there is a high potential to improve customer experience for those who avail of this method of purchase
The click & collect method spread to Paris, going on to reach the rest of the country. In early 2020 it had already covered 7% of total sales. In the same period in Italy this method of consumption was still stationary at 9% of online purchases only.
#EPTABricks refrigerated lockers for Large-Scale Retail Trade
In response to a market with a great potential for development, Epta proposes #EPTABricks, a system of refrigerated lockers, namely refrigerated cabinets intended for Large-Scale Retail Trade Chains, which allow customers to collect food and non-food products ordered on the Chain's website 24 hours a day.
#EPTABricks take the form of controlled temperature modules and are available in the following formats:
#EPTAfreshBricks for fresh products
#EPTAfrozenBricks to store frozen products  
#EPTAambientBricks for ambient products
#EPTAdryBricks for dry products.
Available in the sole outdoor version, #EPTAambientBricks maintain a constant temperature in any climatic condition.
All the advantages of #EPTABricks, the new click & collect solution
#EPTABricks can be installed close to metro stops, companies, hospitals, schools, and offices not necessarily close to the store of origin. They are the ideal solution for customers who opt for quick shopping, at the most convenient time and in complete freedom.
They also offer Retailers important advantages: from the possibility to increase their presence on the territory with numerous collection points where it is not possible to open physical stores to the reduction of the ecological footprint.
A result obtained thanks to the use of propane refrigerant R290. This method allows to concentrate deliveries in a single point rather than multiple home deliveries, thereby reducing the environmental impact and last-mile costs.
The latest version of Epta Lockers includes solutions to facilitate installation and reduce the footprint. Modules of reduced height but larger internal volume, master columns of a smaller size and double columns with a single refrigeration system have been introduced.
The click & collect trend in Italy
Currently, in Italy, 34% of online shops offer the click & collect formula, which allows a great flexibility as regards location and use. It is a major potential market which, according to projections, is expected to reach a turnover of around 45.1 billion in Europe in 2023.