Art and taste are safe with Iarp wine coolers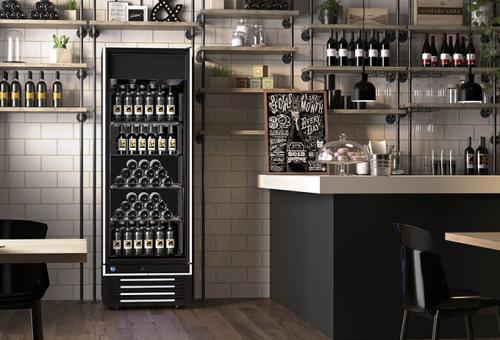 Warhol, Kandinsky, Picasso, Dalì, Eliasson… Are we in a museum?
Not at all. With Epta and the wine coolers by its brand Iarp, art comes to wine stores, restaurants, hotels and all specialty stores.
Yes: already during the last century, great international artists began to dabble with canvases much more subtle than those normally in use: wine labels.
After all, the passion for what is undoubtedly one of the oldest pleasures in the world unites not only countries and centuries, but many different ethnicities, people and talents.
All labels tell a story and are a reflection of a place, an era, and a cultural context. This is evidenced by the Wine Labels Collection: a space dedicated to the richest and most complex collection of wine labels, comprising as many as 282,000 examples.
Glee Glass Winery: the wine cellar that encourages purchase
The importance of ensuring that these "canvases" get the display they deserve seems clear at this point: Iarp Glee Glass Winery wine coolers, thanks to the transparency of their side panels, are designed to ensure maximum visibility for the labels and encourage purchases. These highly customizable vertical wine cellars give elegance and style to the interior of any display space.
Magenta 408 2t and Scarlet 298 2t: wine displays to preserve quality and taste
If everything is granted to artists, and David Shringley even goes so far as to write on some champagnes, "You can judge a bottle by its label," true connoisseurs of the "nectar of the gods" know, however, that even taste wants its share.
For this reason, Magenta 408 2t and Scarlet 298 2t, part of Iarp Winity range, were created to ensure optimal bottle storage over time.
Specifically, while the glasses – transparent or dark – are designed to filter UV rays, different cooling zones with diversified volume and humidity controls preserve the organoleptic properties of each product.
Winity refrigerated displays by Iarp for perfect storage and visibility of wine bottles
Winity is an ideal range for wine shops, and in its more sophisticated versions it allows for multiple temperature-controlled areas and diversified functions according to internal volumes.
But there's more. The joint control of temperature and humidity also ensures the protection of labels, which in unsuitable environments risk being damaged and are an easy target for mold.
On shelves made of wood or steel (the material is chosen according to tastes and needs), 110 to 154 Bordeaux bottles find space inside spacious fittings, which are made eye-catching by blue LED lights. In this product range, too, design and technology are in synergy to embellish the store decor.
Valuable allies, Iarp wine cellars support the quality of the industry, which continues to grow at an annual rate of 6% worldwide.